character identity through modular futuristic clothing design
Modular Futuristic clothing design that showcases game character's identity. The project is focused on learning Marvelous Designer and implementing it into a pipeline that create game ready clothing assets with optimized geometry for cloth physics in game engine like Unreal Engine 4.
For a lot of existing video games right now, player won't be able to tell what the character does by the way they dress. I want to design and create outfits that actually support the storytelling of who the character is. The industry is raising awareness of how fashion could impact the game play, as well as post production benefits. To have better fashion in game will also expend the group of targeted audience.
Fashion Design for Character Identity
To design the outfits, I used certain color palette, fabric, and pattern for different identities. As you can see below, when it's for a softer personality, I chose fabrics like lace and velvet with a creamy tone of colors; where when it's for a combat ready identity, I used heavy duty polyester with camo pattern.
Base Texture Made in Substance
In order to work more efficiently, I made some base fabric materials as my master materials in Substance.
Silhouette really helps players to recognize characters from far distance. If you compare the silhouettes to the left to the ones to the right, you could probably tell the ones to the left grands the character more movability while the ones to the right doesn't. Silhouette also helps to support the identity. In this case, the ones to the left are assassin, biker and the combat solider. And the ones to the right are geisha, princess, ballerina, and the erotic woman.
Marvelous Design Draping Method Improvement
I improved the draping method in MD to make it friendlier to the modular system I'm using. The new method allows meshes share the same seams so it's easier to swap outfit combinations later.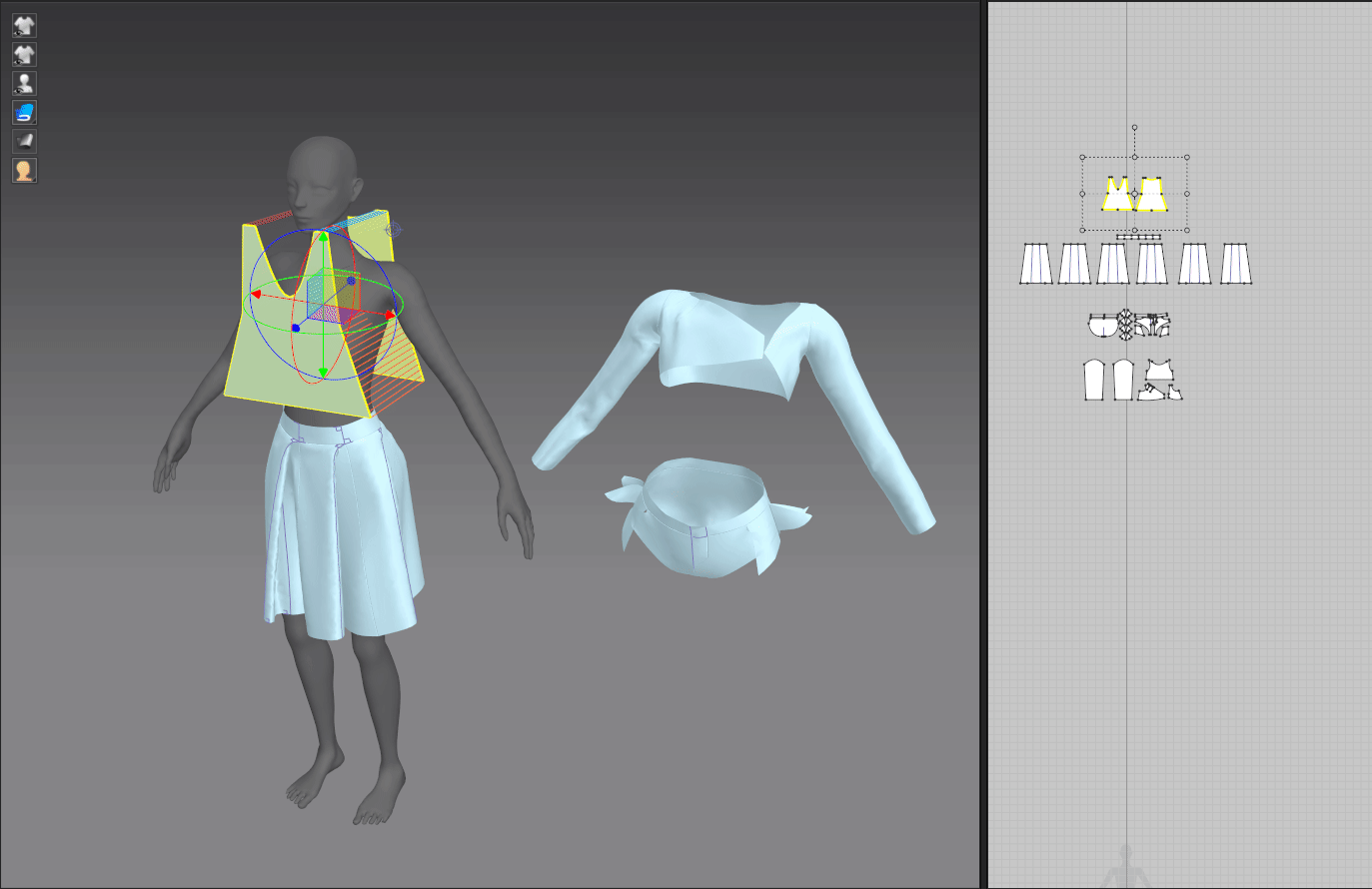 •When in concept stage, design the outfit by thinking what's best pattern/fashion for the identity, with certain limitations in mind (how to execute the design around the seam areas, what are the smart way to cover the seams without breaking the silhouette flow, and how to compromise design between outfits for modularity.)
​
•For quadruple method, it's best to test out the combination in Marvelous Designer before deciding to move the combination into the next steps in the pipeline. It is important to make sure the shared seams match.
​
•After deciding the combination, developer should consider what type of smaller assets to add on to hide the seams or to make it reasonable (zipline) to be there.
​
•Merging UV patterns in 3ds max would also help the fabric flow across the seams when texturing.
​
•Asymmetrical look could also be achieved with this method, but developer should consider doing it with normal and texture, instead of making the mesh asymmetrical.
​